Pretty in Pink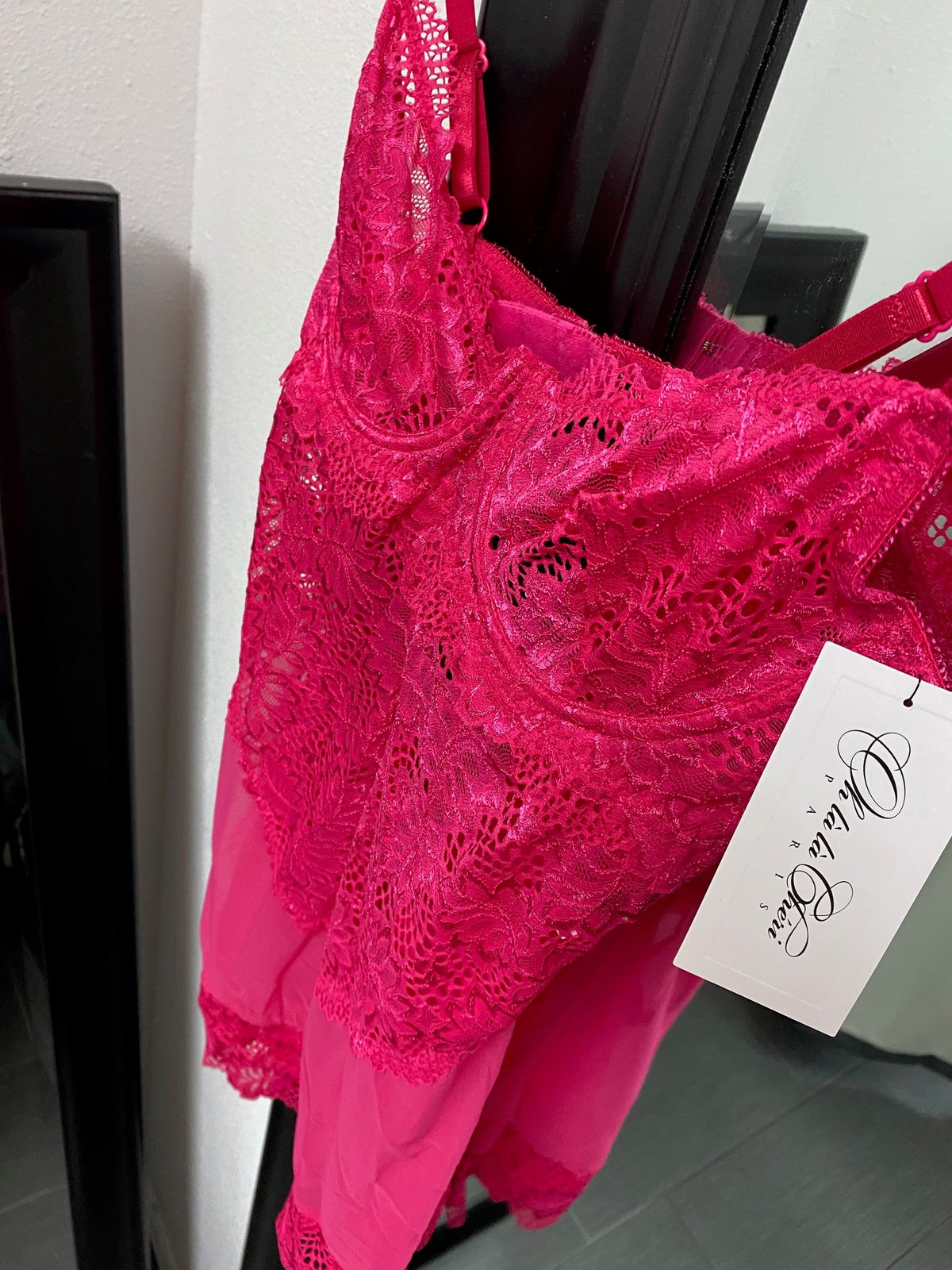 The color pink has been known as the symbol of femininity for many, many years. Before anyone is even born it is the color the signifies if the baby is going to be a girl, it is known to be a favorite of most little girls, and sometimes considered the color of love. Pink brings to mind the candies we see around Valentine's Day or the fun colored roses that are in stores – it can also bring to mind a sense of playfulness or youth, cheerful and innocent. On top of all of those, pink is a pretty color and most of us can agree we feel pretty while wearing it. For me wearing a nice pastel pink brings a girly and, maybe even, a flirty nature to myself. It gives me a sense of fun and like I should be one of the main characters in a romantic comedy.  
Pretty in Pink
That is what you'll feel when you slip into our newest arrival from Kris Line: Florence in the color Lily. This gorgeous collection has the perfect style for anyone and everyone – featuring a soft cup bra and push up brasserie, as well as briefs and string shorts. Factoring in everyone's desired sexiness, as well as their comfort levels. These sets take all of that into account and can be mixed and matched accordingly.
A great thing about the Kris Line brand in general, on top of having inclusive sizing, is the focus on every type of person. From people that are more modest but still enjoy a bit of sex appeal to the ones that don't mind showing some skin and exude all of the confidence to match or any range in between. Kris Line has a style that's right for you. The soft cup bras have a good amount of coverage, are comfortable, and supportive while also bringing the heat with an all lace cup. The brasserie brings the Va Va Voom with the ability to provide a visually larger look coupled with amazing support – this one is sure to please! As far as bottoms are concerned, the Kris Line panties have the same type of range – the briefs being more modest while the string shorts amp up the sexiness. Both having the gorgeous lace details to ensure you feel and look great in either style.
Taking these characteristics and pairing them with a sweet, girly pink color as described above is the perfect mix.
Now, if you'd be more interested in a smooth cup bra without any lace– we've got you covered there too! Check out this Crystal Set f
rom Fit Fully Yours. Perfect for a playful pop of color, but, also great under a t-shirt or thinner top that's in your closet. They come in a wide variety of colors, but going along with the theme of this blog and we're featuring only two. One in a similar soft pink that has the girly feel and one in a more vibrant raspberry that feels a bit wilder and more rebellious, as far as pink colors go. Whichever feeling you are looking for the Crystal set is versatile and comfortable, with the added cr
ystal detail to add a hint of fun and sexiness. They have a moulded, seamless cup with a light padding, along with a sweetheart neckline that features a delicate satin trim. A great feature of this line is the wide-set straps that are designed to not dig in and to not slip off your shoulders. Sounds too good to be true, right? Try it for yourself today and notice the amazing difference!  
Sticking with the color scheme we have a couple of newer arrivals that need to be mentioned. From Oh La La Cheri, we have the Light Pink Floral Ariana Romper, the Bright Rose Page Chemise, and the Mauve Shadows Page Chemise. All of these bring their own bit of sexiness in all different ways.
Starting off with the romper, this fun and girly twist to your everyday lingerie makes this one of our favorites! It flattering and comfortable – made with plus-sized girls in mind, they really focused on the details to make this work for anyone and everyone.
Next, we have the Page Chemises in Bright Rose or Mauve Shadows. These are screaming sex appeal with stunning lace, unlined cups, and matching G-string. Your playful side is sure to come out with this one.  These were also designed with plus sized girls in mind, so they are perfect for every body type and are sure to make you feel as sexy as ever when you put it on.
Overall, there are just as many body types as there are shades of pink – we have you covered on almost all of them by priding ourselves on our wide range of sizing options.
The Florence Soft Cup Bra is available in bands 32 – 50 and all the way up to a JJ cup. The Florence brasserie is available in a 32A through a 34D. The briefs range from a Small up to an XXXL and the string short from Small to XXL.
As for the Crystal Bras we have 30B through 40H in the pink and 32A through 40H in the Raspberry. They also have matching Boyshorts that come in sizes S through XL.
Oh La La Cheri, as mentioned above, is made for plus-sized girls but also has regular sizes available. The Light Pink Floral Ariana Romper is available in L/XL, 1X/2X, and 3X/4X. The Bright Rose Page Chemise comes in Small through 3XL and the Mauve Shadows Page Chemise is currently available in a Small or an X-Large.
If you'd like to order any of the products you see, please shop on
www.shoplabellaintimates.com