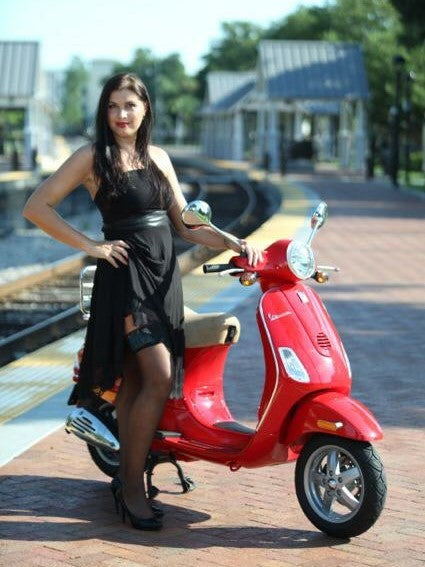 Meet the Owner
My name is Santa LaBellman.

I'm also known as "The Bra Whisperer of Orlando".

I grew up in Northern Europe, where you could find beautiful lingerie on every corner. There were so many manufacturers in our area (Latvia and Poland ), so we were used to having quality products. And then, I moved to the US.
I was surprised and disappointed by how boring and plain the lingerie selection was in the malls and Department Stores. There was nothing sexy, high-end, and/or unique.

I decided to take my knowledge and frustration, and in 2011, I opened up my lingerie boutique in Maitland, Florida, LaBella Intimates & Boutique.
From the start, I was absolutely against carrying any major brand names. Instead, I wanted to discover NEW brands and focus on the quality of our products. I wanted to share the beautiful pieces I had grown up knowing.

LaBella Intimates & Boutique was so much fun to open. It quickly took off, selling colorful, lacy, fun, and elegant lingerie to women who wanted to look and feel their best.

I hand-select all of my products as I have high standards and am very particular about the products we bring into the store. I continue to discover new lines and travel to Europe markets frequently.

At LaBella, we DO NOT believe in 'measuring' as measuring is NOT the same as Bra Fitting.

What do I mean by that?
Many brands have a specific 'fit' designed for their bras.
There are many types of bras - Push Up, Demi, Soft, Semi-Soft.
UK, US, and European Size Charts are different
The stretch of fabrics used causes inconsistency in production.
That's why finding the brand and type of bra that works for your body is essential.

Over 80% of women are wearing the wrong size bra.
That's because a woman's body - in a single lifetime - changes ( 6 ) times on average. This is due to factors such as dieting, pregnancy, and even for no apparent reason. These body changes can affect a woman's bra size.

Because of that, I recommend checking your vital statistics every couple of years, and there's no better place to do so than LaBella Intimates & Boutique.

We are proud to carry the largest selection of bras in the Central Florida area, with Cups A through K in bands 30 through 50.

The endless options make it worth coming in to appreciate for yourself.

Cannot wait to see you there!
xo
See What Our Customers Say About Us