Fleur't for every occasion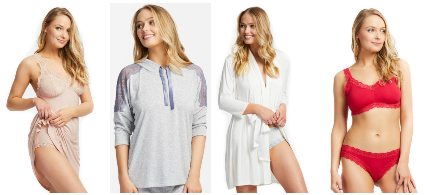 Fleur't is a wonderful lingerie company with a wide array of products for any and all needs. From shopping for a bride-to-be to a great gift for mom or a treat just for you – Fleur't has you covered for all of them! They pride themselves on creating pieces with "soft, feminine fabrics" that incorporate beautiful and delicate details to make every woman that puts on their designs feel amazing! Taking inspiration from the streets of New York City, which can be scene through the chic choices they make, with ultimate comfort in mind. Every item from them is perfect for lounging and sleeping in the most stylish way possible and is sure to please on every front. Let's take a look at the wide variety of items we have available from this company:
Bridal
 Starting off with shopping for the bride-to-be, we have this gorgeous set from Fleur't. This comes with an ultra-soft robe and matching panty; perfect for getting ready for the big day, as well as, sexy enough for that night – and comfortable enough for every day after! With accents of Ballad Blue, that make this set even more feminine and girly, it's sure to bring out any Cinderella vibes and make the bride feel like a princess on her big day!
Following that up, with the Ivory Bridal Ever After
 Lace-Bust Gown. Give the bride a gift that screams happily ever after and have her feeling like a goddess on her wedding night in this breath-taking gown.  This full-length piece features a slit up the sides of the skirt and a luxurious lace bust design. The only word that comes to mind is beautiful. Made with Fleur't's signature rayon spandex blend, this collection feels delectably soft against your skin. The lightweight feeling of the fabric is perfect for turning up the heat.
Gifting
Next, lets dive into some of the perfect gifts for the women in your life – mom, grandma, aunts, sisters, friends, the list goes on and on. We're sure that each of them will love anything you pick from these choices.
First, is this Chantilly & Rose Gold Nightshirt. Again, made of the softest fabric and having gorgeous floral lace detailing. Seeing the chic aspect accentuated with the diagonal lace on the hem and sleeves to add a more glamorous finish to this piece.
Second, we'll check out the Champagne
Chemise set that has the perfect mix of flirty, comfortable, and supportive. That combination is a real winner! Featuring Fleur't's signature fabric that is both breathable and beautiful, made to keep you comfy. This chemise also has a gorgeous lace bust and T-back –still a little modest and a bit sexy. Anyone would love to open this up as a present!
Another item that is perfect for any gift, is the Chantilly & Rose Gold Robe. With the same beautiful floral lace as the nightshirt above, the styling of this robe has a sweet, girly nature and of course is the softest and most comfortable, for sure! Anyone that needs some quality relaxation, is sure to be thankful to receive this robe from you!
The last piece that is an amazing gift for any special woman in your life, is the Indigo Racerback Nightshirt. This gorgeous color and simple design is perfect for a laid-back evening lounging on the couch while binging your newest series obsession. This sweet and comfortable nightshirt features great support, as well, with built in shelf bra. A little longer than other options, this is sure to keep you (or the lucky recipient of this) relaxed while keeping the stylish aspect to every item Fleur't makes.
For You
Now onto the extra fun part, the items that are perfect just for you! Everything mentioned above, you are sure to love – but, we've selected some items that we think would be a great gift for yourself. Make your own day with any of these items – they are sure to be a favorite of yours!
Up first is this super comfy, super cozy, perfect for anything sweatshirt! The Heather Grey & Crystal Hoodie is ready for everything your day has in store – from running errands, to brunch, to morning or evening walks, possibly a yoga class in between, and finally chilling after the day is done. This piece is sure to keep you comfortable through it all and not just comfortable, but also stylish and feeling amazing! With an oversized fit, beautiful lace detailing on the shoulders, and fun silk string accent – it's a great mix of relaxed vibes and feminine class. Great styled with a pair of jeans or leggings, but also take a look at the next item to see how Fleur't take comfort and fashion to a new level!
If you thought that hoodie couldn't get any better, take a look at the matching joggers! Created with the same comfy, cozy fabric and ready to take on any day! Perfectly pairs with the Heather Grey & Crystal Hoodie, but also wit
h any tank or t-shirt hanging in your closet. The possibilities are endless with how you can style these pieces. Dress them up or keep them relaxed depending on what your plans may be. Same slightly oversized fit, beautiful lace detail down the sides, and fun silk drawstring tie at the waist.
Now let's look at something that is sure to please both you, and your significant other. This Sunkissed Bra and Thong Set is sure to spice up your life – while also keeping with the company's nature of designing items with comfort in mind. This set is made from a breathable material, perfect for summer. Created with a focus on comfort and sex appeal this set will keep of cool no matter the situation. Gorgeous lace detailing around the edges and fun pop of red gives a great mix of bright, cheery, and feminine fun. Feel your best while wearing this beautiful set
As you can see for yourself, Fleur't has products from everyone and anyone, along with any gift you may need to be getting. Shop for yourself or any special women in your life and be sure to keep Fleur't in mind next time your thinking about comfortable and stylish items that you could need. Shop online or in-store and see all of the other items we have in stock from one of our favorite brands – let us know which pieces are your favorite!