Cool for the Summer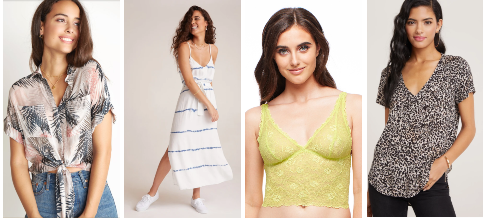 Summer is just around the corner and even though we aren't really sure what that means at this point in time with what is going on in the world today – one thing we can assure you of is that we have your style needs covered and we're here for you! From pools days to possible road trips or vacations and everything in between, there is an outfit for every occasion. Below we'll highlight some outfits we think are perfect for any occasion during the summertime and beyond. Along with the needed bra and panty combinations to go along with the styled outfits, we know that can be a challenge all its own. Some of our go-to brands in the summer include Bella Dahl, Dear John, and many others. Let's take a dive into what this summer has in-store:
Outer Banks Vibes
Let's start off with a top that screams summer and definitely highlights our current obsession with the Outer Banks Series! This Bella Dahl Sunset Palm Print shirt gives off a chill and relaxing, trip to the beach vibe. With a fun tie in the front, two pocket and collar detail, and a loose breathable material – this John B.-esque top is sure to keep you feeling cool all day while bringing a stylish nature to an otherwise comfortable and laid-back look.  
               
We would pair this top with some of our favorite jeans – the Gisele Reload Denim from Dear John. These are those jeans that go with everything, fit great, and look even better. They are sure to make you strut your stuff with confidence, whether
 that's down the boardwalk or down a grocery aisle! Jeans that accentuate your curves in the best possible way, with luxurious material and design choices are what Dear John prides themselves on. Cool and comfortable is what you'll feel while wearing these jeans, no doubt about it!
Wild Summer Days
Next, lets dive into a more ferocious look with another top from Bella Dahl, the V-Neck Tee in Ink Wash. It's sure to make you go wild for it! With soft fa
bric and fun print, this shirt will add a chic style to any outfit is paired with. Perfect for any summer outing or shopping trip – this is a signature style from Bella Dahl and a staple for any wardrobe. With flattering curved hem, not too deep v-neck, and a relaxed fit.
With this top, we're going to pull out a diffe
rent pair of our favorite denim – the Gisele Highrise jeans from Dear John. These have a super flattering high-rise style to accentuate and define a tiny waist and all your amazing curves, perfect to tuck this top into. Beautiful dark wash denim made from wonderful materials to ensure all day comfort and style. These are another pair of jeans that ae sure to go with just about everything in your closet!
Sundress Socializing
Even though we haven't been able to do much socializing these days – we're hopeful that the summer will bring people together to be able to have all the fun with all your friends, in safe ways of course. To get ready for this we picked some beautiful Bella Dahl dresses that are perfect for these days full of fun, friends, and family.
First is the Malibu Blue Cross Front Dress from Bella Dahl. With a mix of flirty and fun, and splash of comfort this dress is a great choice for summer. The material is breathable and lightweight to ensure you keep cool t
hroughout the day. The beautiful blue and lilac color are just enough of a pop while still keeping it subtle – confidence is a sure thing while wearing this beautiful sundress. A tie at the waist highlights you curves, while having sheer sleeves gives off a more modest yet flirty look.
Bella Dahl keeps the style rolling with this easy, breezy dress. T
he Smocked Waist Indigo Maxi Dress is perfect for a picnic or day at the beach. Ankle-length, with tie waist that accentuates your features, while the leg slit gives you room to roam. The perfect dress for any adventure!
For an evening out, this Tie-neck Dress is perfect. Cinched waist and long sleeves give a feminine and flirty look. Lightweight rayon fabric and beautiful Rainstorm print, able to be dressed up for a fancy dinner or dressed down to walk along the beach. 

What to put under it all?
Between the tanks, sundresses, strapless tops, and t-shirts, the options you have to choose from during summer are almost endless. The styles mentioned are obviously very different, so that begs the question – what the heck are you supposed to wear underneath them?
For wearing tank tops and t-shirts, we have the same suggestion: A Spacer Bra. Spacer bras look just like regular T-Shirt bras, but once you put it on you will feel an incredible difference. They are made out of lightweight airy fabric, making them the perfect bras for hotter days! With a bonus of having adjustable straps and fuller cups, this offers a custom fit for an ample bust, while the underwire provides a big boost with extra support.
A great alternative to a regular bra is pairing your sundress or strapless top with a beautiful bralette – this offers a great amount of comfort, while also adding an additional amount of style to your look. With the addition of some lace from the bralette, your look has some added flirty-ness that may not have been there before. You can choose to wear a basic color or add in a pop with whichever bralette you choose. Here are some examples of bralettes that we have:  
We all know how much women enjoy wearing strapless bras – no matter how cute the article of clothing may be, there is always a debate about whether we want to go through the hassle of wearing a strapless bra. Well, we have a bra that'll change your opinion! Introducing the Octavia Strapless Bra from Fit Fully Yours – this bra mixes support and comfort perfectly! It features memory foam cups, two strap positions, plus a wide and incredibly supportive band.
Summer is all about fun! So we hope, in the midst of everything else, you find some fun things to do and are wearing some of these items to do them!