"THE" Colors of the Season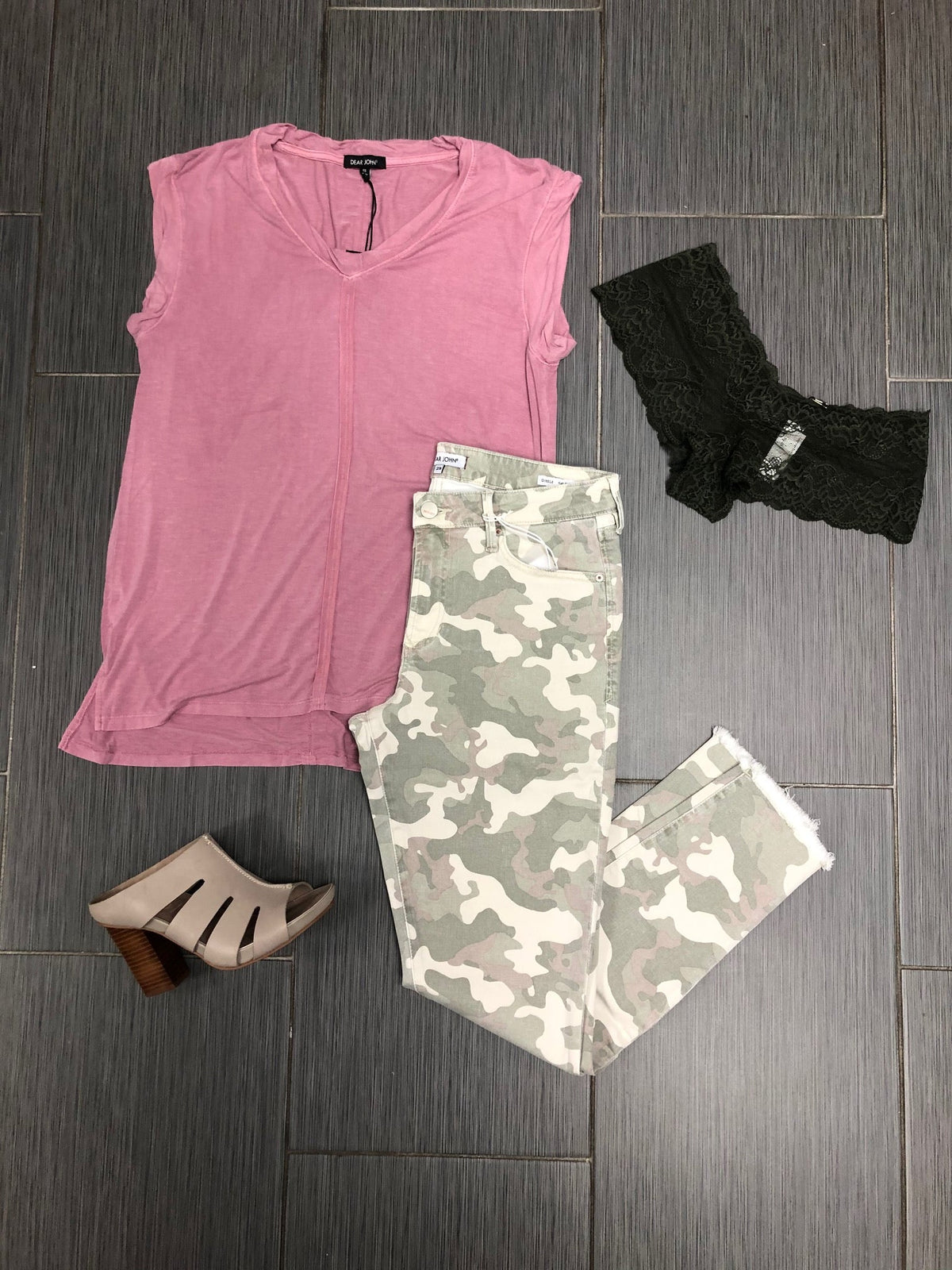 The colors of the season
                We all know that every year the fashion community comes out with there projected trending colors for that season based on the runway shows – whether we buy into this or not we're all affected by it one way or another. We can always see how stores start carrying more of a certain color or select group of color choices based on what the "fashion elites" have deemed "THE" color of that time. We look around and see more and more people wearing this color and soon enough we subconsciously, without thinking too intently about it, buy an item in that color and end up being a part of the trend. This is a cycle that happens all of the time, everywhere, from the most fashionable people to the ones that don't really care to be up on the trends – the" color" somehow makes its way everywhere.
Well, we're here to show you our colors of the season – sage and pink.
This may seem like an odd combo but trust us it works, and it works well! At first, we didn't even notice the trend until we received multiple shipments and put the items on the floor. Then, we looked around and saw that the entire New Arrivals section of LaBella had one color scheme going on. With items from multiple designers, with vastly different styles and target audiences, they all happened to go together, and ultimately form a cohesive collection, all with tones of sage and pink to bind them.
Camo is a good example of the sage green component of this pair. Camo is a color known to be associated with a manly or masculine nature – for hunting or a part of the military. Juxtaposing that with pink, the most notorious color for a girl or femininity. Even before babies are born, people pick out baby shower gifts knowing a baby girl is on the way, and almost always they are a shade of pink.  Now couple those to seemingly opposites choices together and what do you get? You get a look that is trendy, a look that is fashionable, a look that some might even call empowering – this is why when we looked around and saw this trend all around us, we knew we needed to share it with all of you.  
Here are the outfits we styled to show you just how chic this combination is.
First up, Frank Lyman.
This Canadian designer is known for its undeniable impact on women's fashion. Releasing unique designs to march alongside successful women on their elegant journeys. Each piece you wear will make you feel amazing and look beautiful any day of the week. The Khaki Top pairs perfectly with their Floral jeans to create a girly take on an overall edgy look. This is the first up since it embodies the sage and pink collaboration without being overly bold or too in your face. Perfect to go from day to night and everything in-between – pair it with some cute sneakers or sandals for a day in the park or slide on your favorite pumps for a night on the town.
FRANK LYMAN KHAKI TOP STYLE 196636
FRANK LYMAN JEANS STYLE 196100U
Next, Dear John.
                Dear John Denim set out to create that jean you search for relentlessly: the one you love, fits perfect, goes with everything, always makes you feel confident, and is priced reasonably. Today that still starts with exceptional fabrics that are luxurious, easy, and effortlessly moves with you. Dear John, that pair of jeans you will love, always and forever. This is the statement that Dear John was founded on and continues to pride themselves on through every piece they make. The other two outfits pictured are from them and each takes a different spin on the sage and pink trend we are taking a look at.
Camo lightweight sweater paired with army green skirt – ready for any battle life may throw your way! Adding the perfect pink flats to make the look fashion-forward and right on-trend. This outfit is perfect for summer nights with a nice breeze or going out on a possible first date – each piece is great for mixing and matching with numerous items already in your closet to create dozens of other looks that are just as stylish.
More camo, but this time paired with a beautiful mauve top. This exudes the trend we're looking at – mixing tough with soft, masculine print with feminine color choice, sage green with pinks. It perfectly combines comfort with style to make you look like a million buck and feel as comfortable as if you were still in pajamas!
Now, onto Bras to Match!
                The feeling of confidence that these outfits may bring can be aided in starting off with the perfect bra and panty set. Not to worry, we have one picked just for you! The Mon-To Collection from Nikol Djumon. This collection gives you the power to choose the color combination and style that suits you the best. From classic and elegant Black with Jade to chic and sophisticated Blackberry, and finally fun and flirty Lotus. Each color also comes in a multitude of style options from Push-Up, to a gorgeous lace overlay, to soft cup, and also a smooth cup. Which will you choose to accompany the fashion-forward trend we've been writing about?
Whether sage and pink is a color combination you're a fan of or something that you don't see working for you – go out and try something you usually wouldn't since, who knows, it might just work for you. These pieces mentioned are great by themselves, but even better together – mix and match between designers to see all of the looks that you can come up with using this color and style trend. See if you get the same feeling when pairing two things that wouldn't usually go together, do you get that sense of empowerment? Do you get an extra boost of confidence? We certainly hope you do